This Week in A Mighty Girl History

| | |
| --- | --- |
| Irène Joliot-Curie, the daughter of Marie Curie and the winner of the 1935 Nobel Prize for Chemistry, was born in 1897. Her groundbreaking discovery of artificial radioactivity helped transform medicine and save millions of lives. Marie and Irène remain the only mother-daughter Nobel Laureates in history. | Ruby Bridges, who became the first Black child to desegregate an all-White elementary school in the South, celebrated her 68th birthday! In 1960, surrounded by a team of U.S. Marshals, the six-year-old Mighty Girl faced hostile crowds to attend first grade at William Frantz Elementary School in New Orleans. |




When Little Girls Are Mean. Relational aggression – including social rejection, manipulation, and cliques – starts at much younger ages than most parents realize. Experts offer advice on how to tackle the problem early on, whether your daughter is the one being targeted or excluded, the one leading the pack, or one of the bystanders who's not sure how to handle the situation.

Judy Blume's Fight Against Censorship & Book Banning. Judy Blume's beloved books addressed many topics which had rarely been explored in children's literature, often making them the subject of challenges and bans. As a result, Blume became a dedicated defender of free speech and has spent decades fighting for the freedom to read.

The Social Entrepreneurs Who Invented a Life-Saving Light for Disaster Relief. Anna Stork and Andrea Sreshta have donated over 100,000 solar-power lanterns to people in crisis worldwide, including those impacted by war in Ukraine. The innovative lights which now have built-in cell phone chargers, have also become popular with hikers and for home emergency kits. For September's National Preparedness Month, they are giving our supporters 15% off all their solar products when ordered here.

Teacher Finds Rare Fossil Older Than Dinosaurs. While walking on the beach in Prince Edward Island, Canada, Lisa St. Coeur Cormier recently discovered an extremely rare 300 million year old fossil skeleton – from an unknown animal that lived tens of millions of years before the first dinosaurs! It was called an "incredible find" by paleontologists.

Old Dog Living Best Life Thanks to Vet. 15-year-old Netty was left by her owners to be euthanized at a shelter but her life was saved by Dr. Amy Kidd, a Pennsylvania veterinarian who has spent the past eight years adopting senior dogs – including many "hospice dogs." She says proper care has given Netty a new lease on life; she hopes "other people are inspired by her story and give adult dogs a chance."




From A Mighty Girl's Marketplace

When her family moves to a cottage by the sea to help her grandmother, Margaret feels like her world has turned upside down. But one evening the lonely girl spots something magical: unicorns emerging out of the mist! Except when they go, they accidentally leave behind a baby unicorn, trapped in the weeds. Margaret rescues him and cares for him over a cold winter, and the two companions become the best of friends. Over time, the cottage begins to feel like home for Margaret, but it's still not the unicorn's home so when the spring returns – bringing the unicorn's mother with it – the pair have to say goodbye. But, one day, while playing with a new human friend, her unicorn, now grown, returns with a brief reunion before he is off again, leaving Margaret with fond memories of her special friend. This warm and gentle story, accompanied by charming illustrations by author Briony May Smith, has the feel of a picture book classic that will be adored by all lovers of magical creatures. Ages: 4 to 8





---

When 5-year-old Kate Moore and her father moved to Fayerweather Island lighthouse in Connecticut in the early 19th century, Kate was supposed to be the new lighthouse keeper's daughter, but she considered herself Papa's assistant. By the time she was 12, her father's declining health made it difficult for him to go up and down the lighthouse's spiraling stairs and Kate started taking over more of his duties. Over the years. she kept the light burning, listened for calls for help from ships offshore, and even rowed out and pulled sailors to safety. In fact, she's credited with saving 23 people from drowning! And finally, at the age of 47, Kate was named the official lighthouse keeper Fayerweather Island – one of the few women who served in this critical, life-saving role. This beautifully-illustrated picture book tells the little-known true story of a pioneering lighthouse keeper who proved that a girl with a dream and determination can become a hero. Ages: 5 to 9


For two books perfect for young girls who want to imagine themselves working in modern emergency services, including firefighting and police, we recommend ABC What Can She Be? for ages 2 to 6 and Dress Like A Girl for ages 3 to 7.




---

Olive LOVES trying new things, and this school year, she's doing more than ever. Taking guitar lessons, making a short film, joining the Berry Scouts, leading the campaign to change the school's dress code… she just can't say no to any of it. That's fine, though; she's sure she can keep up with the many demands! But as the weeks fly by, Olive starts feeling more and more frazzled. She doesn't want to give up any of her ambitious goals or let down her friends, but she's afraid she's going to fail at all of them. When crunch time hits, Olive finally realizes that, while her many projects are important, so is knowing when she's taken on too much and when it's time to ask for help. This new addition to Kayla Miller's best-selling Click graphic novel series about the importance of balance is sure to speak to today's busy tweens. Ages: 9 to 13


For an excellent guide to help tweens develop organizational skills – including how to know when they need to pare back for their own well-being – we recommend A Smart Girl's Guide: Getting It Together for ages 9 to 12.




---

The smart, daring, and always rebellious Enola Holmes – the younger sister of Sherlock Holmes – is back in a brand new mystery! Enola has found her place in Victorian London working as a scientific perditorian: a finder of lost persons and things. But for most young women her age, such freedom is unthinkable as they are under the near absolute control of their nearest male relative. Enola's friend, Lady Cecily Alastair, is among them, and her father Sir Eustace has unpleasant plans for his daughter. When Enola helps Lady Cecily make a bold escape, she accidentally comes face to face with her brother, Sherlock, who's been hired to find the rogue young noblewoman and, in the confusion Lady Cecily disappears. Now she's in greater danger than ever: Lady Cecily has dual personalities, and either of them could get her in deep trouble if she gets lost in London without Enola's help! Fans of Enola's previous adventures will love diving back into her world in this new eighth book of the beloved mystery series. Ages: 11 and up


The original Enola Holmes series has also been adapted into a pair of graphic novels, the first of which includes the first three novels in the series and the second of which includes books four to six.




---

Princess Marra is the "spare" third daughter, and she was relieved to be sent to a convent; frankly, she'd rather spend her time making medicines and knitting than being married off to secure political alliances. Her older sister wasn't so fortunate, however, and after years of seeing her suffer in silence at the hands of a cruel and abusive prince, Marra decides that it's up to her to save her sister before it's too late. She knows that she'll need help to pull off such a brazen rescue mission and seeks the aid of a dust-wife, a powerful necromancer with a demonically possessed chicken for a familiar. The dust-wife agrees to help if Marra can complete three impossible tasks: build a dog out of bones, sew a cloak out of nettles, and catch moonlight in a jar. And doing the impossible is only the beginning of Marra's quest to save her sister, topple a throne, and maybe even find herself along the way... T. Kingfisher, the award-winning author of A Wizard's Guide to Defensive Baking has crafted a dark, humorous, and truly original feminist fantasy, available in a special hardcover edition with gold foil and custom endpapers illustrated by the author herself. Ages: Teens / Adults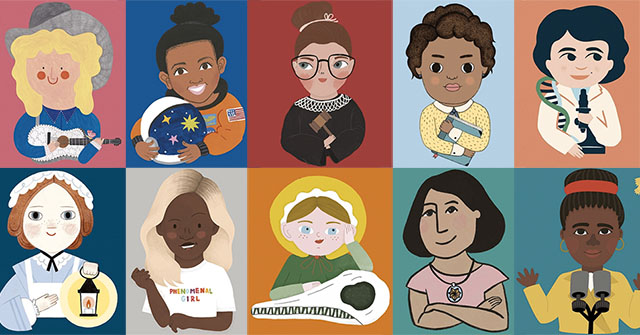 For A Mighty Girl's new book giveaway, we're thrilled to present a set of 10 books about extraordinary women in history from the best-selling Little People, Big Dreams series! Our new giveaway features picture books on Dolly Parton, Mae Jemison, Ruth Bader Ginsburg, Maya Angelou, Rosalind Franklin, Mary Anning, Florence Nightingale, Wilma Mankiller, and more. The charming Little People, Big Dreams series has delighted young readers since its first volume, and with these ten titles, you can quickly build your Mighty Girl's library of titles about inspiring women!
Thanks to its publisher Quarto Publishing, three A Mighty Girl supporters will receive a set of ten Little People, Big Dreams books. With apologies to our many non-US-based supporters, due to legal restrictions, the giveaway is only open to US residents. The last day to enter is Friday, September 23.
To sign up for the Little People, Big Dreams 10-book giveaway, visit the Giveaway Entry Page.
---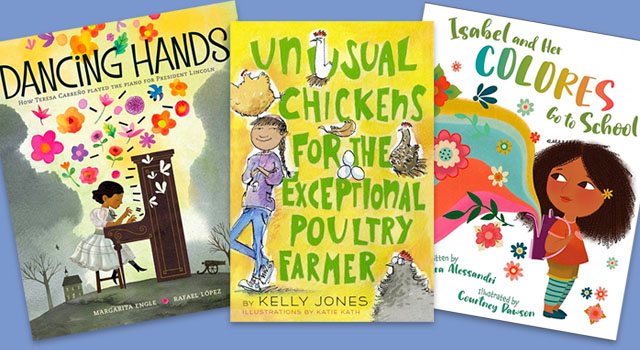 Happy Hispanic Heritage Month! Every year, from September 15 to October 15, Americans celebrate the histories, cultures and contributions of their fellow citizens whose ancestors came from Spain, Mexico, the Caribbean and Central and South America. The date of September 15 is significant because it's the anniversary of independence for many Latin American countries, including Costa Rica, El Salvador, Guatemala, Honduras and Nicaragua; additionally, Mexico's Independence Day is celebrated on September 16.
At A Mighty Girl, we're celebrating Hispanic Heritage Month with two new blog posts filled with books starring Hispanic Mighty Girls! In our first blog post, 60 Books Starring Latina Mighty Girls, we feature a variety of non-fiction books for children and teens about real-life Mighty Girl role models, as well as fictional stories celebrating Hispanic heritage in everyday life. In our second blog post, 25 Bilingual Spanish/English Picture Books Starring Mighty Girls, we've shared two dozen bilingual Spanish/English board books and picture books for young readers. We hope these empowering titles will help all kids learn more about the diverse contributions and rich cultural traditions of Hispanic Mighty Girls!
New This Week on A Mighty Girl