This Week in A Mighty Girl History

| | |
| --- | --- |
| Geraldine "Jerrie" Mock became the first woman in history to fly solo around the world on April 17, 1964. Nicknamed "the flying housewife" by the press, Mock circumnavigated the Earth flying a Cessna 180 single-engine monoplane. Despite her incredible record-making feat, Mock's name is largely unknown today. | Charlotte Brontë, the celebrated English novelist who introduced a new type of heroine to English literature with her novel Jane Eyre, was born this week in 1816. In her works, Brontë challenged the perception of women as 'subservient creatures,' writing in Jane Eyre "I am a free human being with an independent will." |

16 Tips for Staying Close to Your Tween Daughter. Psychologist Laura Markham offers a variety of tips on how to minimize the drama of parenting a tween, while also fostering her independence during this transition towards adulthood.

Girl Scout Troop for Homeless Girls Smashes Cookie Sales Goal. Troop 6000 in New York City set an initial goal of selling 6,000 boxes for their first-ever cookie sale. Thanks to robust online orders, the troop serving girls living in city shelters has sold over 30,000 boxes! You can order online until May 6 or donate directly to the Girl Scouts in Shelters Program.

Former Make-A-Wish Kid Now A Doctor At The Same Hospital That Treated Her for Cancer. A battle with bone cancer at age 11 inspired Jen Pratt to pursue a career in medicine. Today, she's a pediatrician at Children's Minnesota in St. Paul, and tells kids going through what she once did: "Don't be afraid to dream big, and never stop looking towards the future."

Dear Strangers, Please Stop Telling Me My Active Daughter Might Get Hurt. In an op-ed, Leslie Kendall Dye asserts that strangers' warnings undermine girls' confidence as they test their physical limits. She reminds readers that all children need adventurous, physical play to grow healthy and strong.

Remembering Viola Liuzzo, the Civil Rights Activist Murdered After the Selma March. After traveling from Detroit to volunteer, the mother of five was helping shuttle marchers from Montgomery back to Selma in her car when she was shot in the head by members of the KKK. Her murder, and outrage at the violent treatment of many Selma protesters by local law enforcement, helped spur the signing of the 1965 Voting Rights Act.

The Pilot Who Saved Southwest 1380 Was Pioneering US Navy Fighter Pilot. Captain Tammie Jo Shults was one of the first female pilots to fly tactical aircraft for the Navy, including the F/A-18 Hornet. After an engine exploded last week, her experience helped her guide the crippled plane safely to an emergency landing, saving the lives of 148 people on board.

Desiree Linden Becomes 1st American Woman to Win Boston Marathon in 33 Years. The 34-year-old from Michigan fought a powerful headwind and near-freezing rain to win the world's oldest annual marathon with a time of 2 hours, 39 minutes and 54 seconds. She said that she nearly quit at mile 4 due to the conditions but "decided to keep running."

Did you know? A Mighty Girl is the world's largest girl empowerment marketplace with thousands of books, toys, movies, clothing, and music for parents, teachers, and others dedicated to raising smart, confident, and courageous girls! If you value our resources, it's easy to help support our girl empowerment mission. By purchasing items you discover via the "Buy from Amazon" or other links on A Mighty Girl's product pages and blog posts, we receive a small commission at no added cost to you. We appreciate your support to keep the website going strong for the Mighty Girls of today and tomorrow!




From A Mighty Girl's Marketplace

The inspiring true story of the trailblazing women who helped America reach the moon is now available in a picture book adaptation for young children! It tells the story of Dorothy Vaughan, Mary Jackson, Katherine Johnson, and Christine Darden, four African American women who worked as "human computers," calculating by hand the trajectories for many of NASA's earliest flights — and how, even at a time when being black and a woman limited what they could do, they persisted and changed the world! Filled with vibrant full-color illustrations, this new picture book edition introduces the four women's personal stories, while providing detailed historical context about NASA, the space race, the civil rights movement, and segregation, as well as a timeline and glossary. Ages: 5 to 9




---

Zoey makes an amazing discovery one day when a sick baby dragon shows up on her doorstep: she can see magical creatures when they are in need of help! Now, it's up to Zoey to figure out how to help the little dragon she names Marshmallow. But to figure out the best way to treat a sick baby dragon, Zoey will have to apply scientific principles to learn more about her new patient and find a cure. Fortunately, Zoey has enough curiosity and determination to design and carry out a series of experiments until she knows just how to make Marshmallow better! Filled with whimsical illustrations on nearly every page, this first book of a fun new chapter book series starring a smart and independent Mighty Girl and her regular sidekick Sassafras the cat is the perfect blend of science, mystery, and magic. Ages: 5 to 8




---

Girls today are achieving like never before, but many are still consumed by self-doubt on the inside. Especially during the tween and teen years, girls are filled with worries about everything from how they look to why they aren't getting "perfect" grades" to what others think about them — and all these worries are holding girls back taking risks and challenging themselves. But if they can crack the confidence code, they can learn how to set those worries aside and focus their energy on what's really important: confidently pursuing their dreams and embracing their authentic selves! From the authors of the best-selling The Confidence Code for adult women comes this essential new resource to help girls understand why doubt can be so insidious and how to short-circuit the thoughts that drain your confidence and hold you back. By learning these skills in the tween years, girls will feel brave enough to take on anything! Ages: 8 to 12




---

This first comprehensive historical biography of Little House author Laura Ingalls Wilder has just won the 2018 Pulitzer Prize! In Prairie Fires, author Caroline Fraser thoughtfully explores the grown-up story behind the influential childhood epic of pioneer life. To create this more nuanced picture of Wilder's life, she examined unpublished writings, letters and diaries, and even financial records. For the millions of readers of the Little House books who believe they know Laura Ingalls, this new biography offers an eye-opening look at both her personal story and the mythologizing of America's westward expansion. As Pulitzer stated in the prize announcement, this "deeply resourced and elegantly written portrait" brilliantly captures how Wilder transformed her family's story of poverty, failure, and struggle into an uplifting tale of self-reliance, familial love, and perseverance." Ages: Adults




---

There's a fun new way to learn chess without stress! With this unique set, kids (or adults) can learn the rules of this classic game with an innovative deck of action cards. Each card depicts a chess piece and how it moves. In the first phase of play, you move according to which action card you draw; as kids advance, they'll draw three cards and choose which move they think offers the best strategy. Finally, when they're comfortable with the game, they can flip over the board to the side with no hints and play standard chess. It's an simple way to teach beginners a game that they can enjoy their entire lives — and build their confidence as they improve their mastery of the game. Ages: 7 and up




For A Mighty Girl's new book giveaway, you can win copies of all 13 books in the best-selling Judy Moody series, which has just been reissued with brand new cover art! Since her first appearance in 2000, millions of kids have delighted in the antics and adventures of the funny and feisty Judy Moody! Whether she's setting her sights on solving a mystery, making plans for a NOT bummer summer, or conducting a real-live ooey-gooey operation, Judy is always full of big ideas — and without a doubt, she's the most non-boring third grader your kids will ever encounter!
Megan McDonald's blend of spirited storytelling and offbeat humor — combined with quirky artwork from illustrator Peter H. Reynolds — have made Judy Moody one of the most popular Mighty Girl chapter book series of all time. Thanks to its publisher, Candlewick Press, three A Mighty Girl supporters will receive newly reissued paperback editions of all 13 books in the series, recommended for ages 6 to 9, in addition to a Judy Moody button, a Judy Moody poster, and a tiger-striped tote bag. The giveaway is free to enter and the three winners will be randomly selected. With apologies to our many non-US-based supporters, due to legal restrictions, the giveaway is only open to US residents. The last day to enter is Tuesday, April 24.
To sign up for the Judy Moody giveaway, visit the Giveaway Entry Page.
---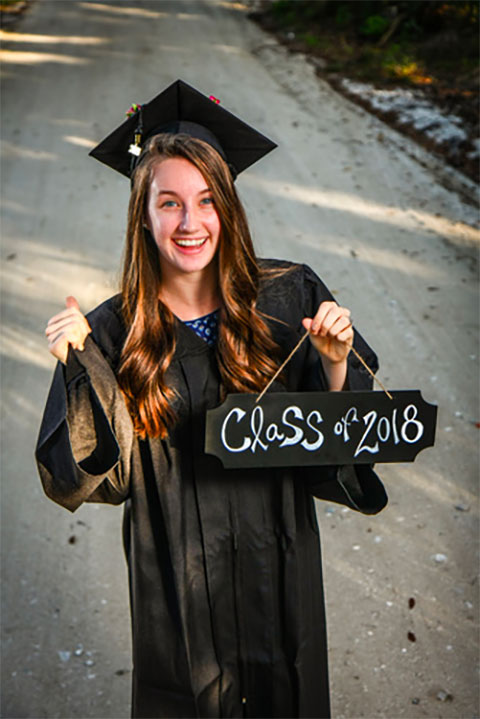 Whether it's from preschool or college, graduations mark important transitions in a child or young person's life. If you know a Mighty Girl who is graduating soon, you've probably reflected on the momentous change coming for both of you. Whether your Mighty Girl is going to be starting school full-time as a first grader or moving cross-country to attend college, you likely want to pass on some words of wisdom as she takes her first steps into this new stage of life.
One great way to do this is by giving her an inspiring book that encourages her to achieve her potential and reminds her that you will always be there when she needs you! With that in mind, in our blog post, New Beginnings: 20 Inspiring Books for Mighty Girl Graduates, we've collected our favorite books for graduates of all ages. While the reading level of these books may be simple, like the classic Oh, the Places You'll Go!, the inspiring message of such books is truly universal and appropriate for graduates of all ages.
New This Week on A Mighty Girl