This Week in A Mighty Girl History

| | |
| --- | --- |
| Ruth Bader Ginsburg, stalwart women's rights advocate, feminist icon, and the second female justice on the U.S. Supreme Court – now known as Notorious RBG – celebrated her 85th birthday. | Emmy Noether, the groundbreaking German mathematician who revolutionized abstract algebra, was born in 1882. Albert Einstein called her a "creative mathematical genius." |

Young Woman with Down Syndrome Starts Her Own Cookie Company After Repeated Rejections. Collette Divitto was turned down countless times for baking jobs for not being a "good fit" so she started Collettey's Cookies. Three years later, the 27-year-old has sold hundreds of thousands of cookies and employs 11 other people with disabilities!

The Case for Teaching Kids "Vagina," "Penis," and "Vulva". Sex-abuse prevention educators say teaching children anatomically correct terms helps prevent "the culture of secrets and silence [abusers] rely on" and promotes "positive body image, self confidence, and parent-child communication."

Women's Voices vs. Men's Voices in Film. A BBC infographic highlights the extreme disparity in speaking time for female and male characters over 25 years of Academy Award Best Picture winners. That imbalance extends to many other movies, including family films, where only 29.2% speaking characters are female, the same percentage as in 1946.

When Your Mother Says She's Fat – Passing On Body Hatred. A mother's negative body image can have a lasting impact on her daughter's sense of self. In her impassioned essay, writer Kasey Edwards talks about her determination to break the cycle for her own daughter.

Civil Rights Pioneer Becomes First Canadian Woman to Appear Solo on Banknote. Viola Desmond sparked the Canadian Civil Rights Movement when she fought her arrest for sitting in a whites-only section of a movie theater. She's featured on Canada's new $10 bill, which was unveiled this month.

To The Daughters of Title IX – Step Up And Coach. Andrea Montalbano knows millions of women like her played sports, thanks to this landmark civil rights legislation. The author and coach calls on them to step into coaching roles and show girls that women are in the game!

Did you know? You can sort the thousands of books, toys, movies, clothing, and music in A Mighty Girl's girl empowerment marketplace by recommended age and theme using the filters on the left menu of every category page. You can also quickly discover the thematic categories that most interest you by mousing over the section buttons, such as Books, Toys, and Clothing, on the main menu bar. By doing so, you will open that section's directory and can easily navigate to any of the featured categories.




From A Mighty Girl's Marketplace

In this Easter classic, all the bunnies know that when one of the five Easter Bunnies gets too old to run fast, it's wise Grandfather Bunny who chooses the new Easter Bunny. As a little girl bunny, Cottontail declares, "Some day I shall grow up to be an Easter Bunny -- you wait and see!" But the fine white rabbits and the fast Jack rabbits just laugh at her and, after she grows up, marries, and becomes mother to twenty-one little bunnies of her own, she figures that her dream of being an Easter Bunny is long gone. But what Grandfather Bunny needs is a rabbit who is wise, kind, and brave… and he knows just the bunny for the job. Ages: 3 to 8




---

Twelve-year-old Sophie has never quite fit in and she's always hidden a big secret: she's a Telepath. When she meets a mysterious boy named Fitz, however, she discovers a shocking new truth. Sophie has never felt at home because she isn't at home; she's an elf who was hidden among humans. But when she returns to the elf world and begins studying at an eflin academy, the questions about her mysterious past only deepen… This box set collects paperbacks of the first three volumes of the exciting fantasy series, Keeper of the Lost City, Exile, and Everblaze. Ages: 9 to 12.




---

In Auschwitz, even a birthday card is a forbidden joy. But Zlatka refuses to let her best friend Fania's 20th birthday go uncelebrated so she steals and barters to get the supplies she needs to make an origami heart, signed by all their friends. Fania protects that precious gift, through the camp and death marches, determined to carry it with her to freedom. She knows that the paper heart represents the most important thing of all: hope. Inspired by a true story of one of the few objects created within Auschwitz's walls, this beautiful, emotional novel in verse celebrates two courageous young women and the power of love to transcend the darkest of times. Ages: 12 and up.




---

When Hanna escaped from East to West Germany as a young woman, the cost of her freedom was leaving her family behind. Years later, her American-born daughter, Nina Willner, would conduct Army Intelligence operations in East Berlin at the height of the Cold War; she was only miles from the family she had never met, yet didn't dare visit them. In this intriguing biography, Willner recounts both her experience running secret operations behind the Berlin Wall and the harsh realities of her relatives' day to day life in East Germany. This heartfelt story celebrates five courageous women who refused to give up on one another, even after forty years of separation. Age: Adults.




---

This deluxe lab set has everything to keep young scientists busy experimenting! A newly expanded version of the popular Primary Science Lab Set, this fun set provides kids with step-by-step instructions on 20 double-sided activity cards. Young scientists can then record their results in the write-and-wipe journal. With 45 pieces in all, including funnels, test tubes, safety glasses, twisty connector tubes, a sensory tube, a ViewScope, and more, there's plenty to spark her scientific curiosity! Ages: 3 to 6




For A Mighty Girl's new book giveaway, we're thrilled to present Rescue & Jessica, an inspiring new picture book about the life-changing friendship between a Boston Marathon bombing survivor and her service dog Rescue! After Jessica's leg is amputated, she struggles to adjust to her new life until she meets a very special dog who helps her to see a way forward, together, one step at a time! Based on the real-life story of author Jessica Kensky and filled with charming artwork by illustrator Scott Magoon, this touching story of the love and teamwork between a girl and her service dog will inspire children with its message of the power of hope and friendship to overcome adversity.
Thanks to its publisher Candlewick Press, three A Mighty Girl supporters will receive an autographed copy of Rescue & Jessica, recommended for ages 5 to 9, and a Silver Paw Charm Necklace from the non-profit National Education for Assistance Dog Services. With apologies to our many non-US-based supporters, due to legal restrictions, the giveaway is only open to US residents. The last day to enter is Tuesday, March 27.
To sign up for the Rescue & Jessica giveaway, visit the Giveaway Entry Page.
---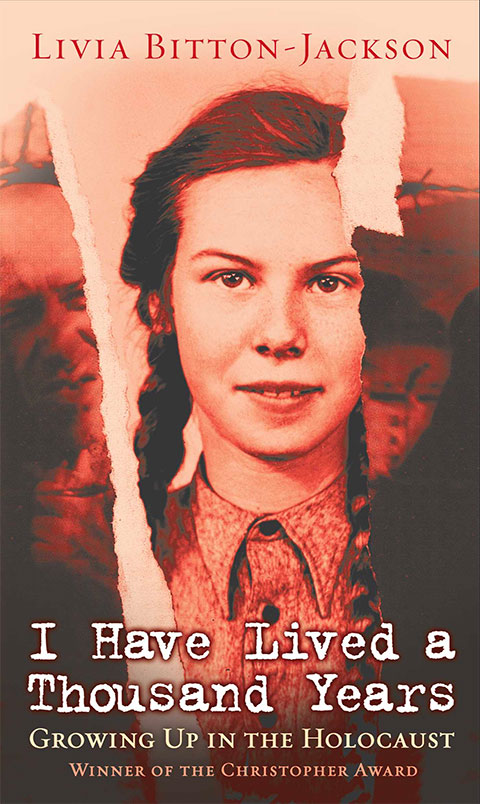 Holocaust Remembrance Week is fast approaching – the annual commemoration of the Holocaust will begin on Sunday, April 8 this year. During this week, people around the world take time to remember everything that the Holocaust has to teach us: the evil that was done and the depths to which humanity can sink, but also the compassion, bravery, and goodness that emerges even in the darkest of times. It is a difficult topic for any of us, but particularly difficult to discuss with children. How do you talk about something so beyond most children's comprehension in a way that respects the experience of those who lived it?
To introduce children and teens to this dark chapter of human history and the lessons we all must learn from it, we've featured our favorite books about the Holocaust for young readers in our blog post, Yom HaShoah / Days of Remembrance: 40 Mighty Girl Books About The Holocaust. These books, from picture books to novels to memoirs, tackle this sensitive subject from a variety of perspectives with dignity, respect, and most importantly, hope. And, since the courageous and compassionate Anne Frank has been the subject of so many books and films, we've collected the best ones in a separate blog post, Hope in a Hidden Room: A Mighty Girl Salutes Anne Frank.
New This Week on A Mighty Girl