This Week in A Mighty Girl History

| | |
| --- | --- |
| Sophie Scholl, one of Germany's most famous anti-Nazi heroes, was born in 1921. At the age of 21, the student activist was executed by the Gestapo for treason for forming a non-violent, anti-Nazi resistance group called the White Rose. | Nellie Bly, the trailblazing journalist and adventurer extraordinaire, was born in 1864. Bly was famous for her undercover investigative work, including feigning mental illness so she could report on appalling conditions and treatment at a New York asylum. |




Why We Should Teach Kids Vulva, Penis, and More. Sex educators discuss why teaching young children accurate terminology for their genitals rather than euphemisms or colloquialisms matters and how it can help keep kids safe.

The American Nurses Who Survived Three Years in a Japanese Prison Camp. These courageous nurses, known as the "Angels of Bataan," continued to serve as a nursing unit while prisoners of war despite losing 30% of their body weight and having to eat slugs to survive. Our new blog post tells the story of these heroic women, all 77 of whom incredibly survived the war.

Relational Aggression Starts As Early As Preschool. Threats of revoking friendship, ostracism, and other methods of social exclusion aren't just middle school issues: they appear in kids as young as three. Experts offer advice on how parents can counteract this often subtle form of bullying and help kids form healthy friendships.

The Scottish School Matron Who Died for Protecting Jewish Schoolgirls. The heroic story of Jane Haining, who refused to abandon the girls in her care when the Nazis invaded Hungary and ultimately died at Auschwitz, is told in a new blog post. This year's March of the Living in Hungary – the annual tribute to the half a million Hungarian Jews killed during the Holocaust – was dedicated to Haining's memory.

The Citadel Graduates Its First Female Regimental Commander. The prestigious 175-year-old military college famously fought the admission of women for many years; this month, Sarah Zorn graduated as the first female cadet to lead its 2,400 students.

The 93-Year-Old Doctor Who Has Spent 60 Years Fighting the Opioid Epidemic. Dr. Melissa Freeman still spends up to 12 hours a day seeing patients at the age of 93! The Brooklyn native, who started working at one of the United States' first methadone clinics nearly 60 years ago, says "what drives me is to see people come out and make it."

From A Mighty Girl's Marketplace

"I loved you before I saw you...But before I'd finished imagining who you'd be, you were here. And you were perfect." In this touching celebration of fatherhood, the close bond between parent and child comes to life with heartwarming resonance. Simple moments, like listening to a child's stories or gazing at the stars, become shimmering moments to treasure. Laurenne Sala's tranquil text, accompanied by Mike Malbrough's tender watercolor illustrations, creates a warm look at the joys, fears, and responsibilities of being a dad over the years, making it the perfect picture book for expectant fathers and already-fathers everywhere. Ages: 3 and up




---

Aptly described as "A magical blessing for unconventional girls," Neil Gaiman's Blueberry Girl beautifully conveys a parent's wishes and dreams for his or her Mighty Girl as she grows from a baby into a young woman. In rhyming text, it offers dreams of what every parent wishes for her child: "Ladies of light and ladies of darkness and ladies of never-you-mind... Keep her from spindles and sleeps at sixteen/Let her stay waking and wise." Though written as a picture book in simple language, this gorgeously-illustrated, poetic tribute to courageous and adventurous girls will resonate with girls of all ages and especially with those embarking on life transitions. Ages: 3 and up




---

For hundreds of years, a small group of Elders have ruled the Protectorate by terrorizing its citizens with stories of a witch who will destroy the community if a baby is not left in the forest for her once a year. A witch does live in the forest – but she is a kind and gentle witch named Xan, who rescues the abandoned babies. One year, however, she accidentally feeds a rescued baby moonlight instead of starlight. The moonlight fills the child with powerful magic, and for her safety, Xan decides to raise this special child, Luna, as her own. As Luna approaches her 13th birthday, her magic begins to grow in new and unpredictable ways. With her coming of age, Luna will face new challenges to protect the people she loves and bring renewed hope to the lives of those around her. This extraordinary novel, which was awarded the 2017 Newbery Medal, has just been released in a paperback edition. Ages: 9 and up




---

As a teen, Sophie Scholl grew disillusioned by the propaganda of Nazi Germany and decided she could no longer be silently complicit in supporting a tyrannical regime. Sophie and her brother formed a non-violent resistance group called the White Rose and began distributing anonymous leaflets calling on their fellow Germans to oppose the Nazis. Betrayed to the Gestapo, Sophie and her brother were arrested for treason, interrogated, and executed mere hours after a show trial. Today, they are honored among Germany's greatest heroes for their moral courage. This powerful novel-in-verse honors Sophie's courage and others like her who gave their lives in the fight against fascism. Ages: 13 and up




---

This clever little robot – which recently won the 2019 Innovative Toy of the Year Award – can help kids as young as five learn the basics of coding, but its advanced features allow Botley to grow along with them! Botley is ready to go right out of the box, and can be coded for up to 120 steps. Using smart logic, Botley can detect and avoid objects in its path, while following looping commands or tackling obstacle courses. The activity kit comes with 77-pieces, including detachable arms for Botley, 40 coding cards, 27 obstacle building pieces, and more. Plus, parents will love that Botley is completely app- and screen-free, so kids can foster creativity, problem-solving, and logic skills without ever picking up a device. Ages: 5 and up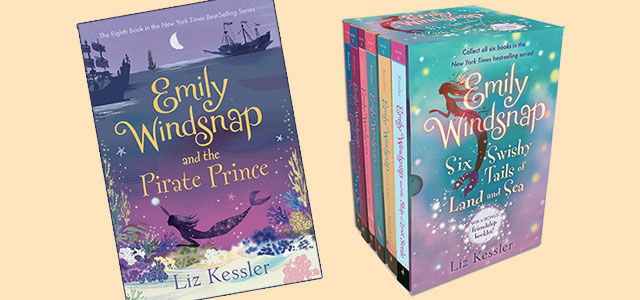 For A Mighty Girl's new giveaway, you can win all eight books in the magical, bestselling Emily Windsnap series! For over a decade, middle-grade readers have delighted in following the adventures of this clever and courageous half-mermaid girl. In the newest addition to the series, 13-year-old Emily teams up with pirates to unravel a series of riddles to find a lost treasure and rescue her kidnapped friend. This new action-packed release is full of swashbuckling adventure and high stakes, while also exploring themes of friendship, loyalty, and staying true to yourself. This captivating story is perfect for both Emily's long-time fans and for new readers just diving in to her magical world!
Thanks to its publisher Candlewick Press, three A Mighty Girl supporters will each receive an autographed copy of the newly released Emily Windsnap and the Pirate Prince, recommended for ages 8 to 12, an Emily Windsnap Box Set, and a mermaid tail blanket. With apologies to our many non-US-based supporters, due to legal restrictions, the giveaway is only open to US residents. The last day to enter is Sunday, May 19.
To sign up for the Emily Windsnap Giveaway, visit the Giveaway Entry Page.
---
The Third "Trimate" Fighting to Save Orangutans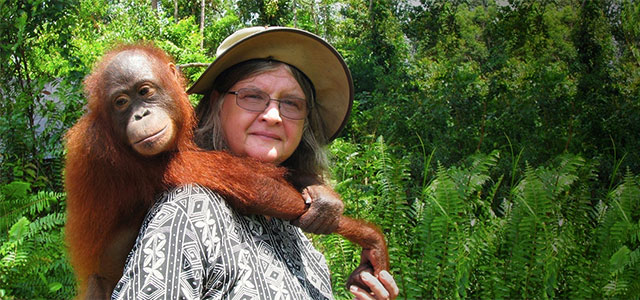 While pioneering primatologists Jane Goodall and Dian Fossey are household names, few people know the identity of the third woman who was recruited by acclaimed paleoanthropologist Louis Leakey to study primates. Birutė Galdikas, who celebrated her 73rd birthday this week, became the world's leading authorities on orangutans, much as her fellow "Trimates", Goodall and Fossey became experts on chimpanzees and gorillas respectively. When Galdikas met Leakey during her graduate studies at UCLA, she told him she wanted to study orangutans in the wild – and soon she was setting up a research project at a reserve in Borneo. Over the past fifty years, Galdikas not only revolutionized our understanding of this little-known primate, but she also became an advocate for the protection of the orangutan's rainforest home, which has been threatened by widespread logging.
As part of her conservation efforts, she tackled the trade in orangutans for pets, and created a center dedicated to rehabilitating captured orangutans with the hope of reintroducing them to the wild. Currently a professor at Simon Fraser University and the president of the Orangutan Foundation International, Galdikas still speaks passionately about the importance of protecting natural spaces around the world: "Our connection with nature is very basic," she said in an interview. "Without nature humans are lost. That's it."
For a new book about Biruté Galdikas for young readers, we highly recommend Undaunted: The Wild Life of Biruté Mary Galdikas and Her Fearless Quest to Save Orangutans for ages 8 to 12. Galdikas is also featured with Goodall and Fossey in the excellent graphic novel Primates: The Fearless Science of Jane Goodall, Dian Fossey, and Birutė Galdikas, for ages 13 and up.
Adult readers can learn more about her life and work in her book, Reflections of Eden: My Years with the Orangutans of Borneo.
New This Week on A Mighty Girl